July 2005 Archives
July 25, 2005
The Big Spot Front is Finished!
July 24, 2005
Another Secret Pal Surprise!
Here's the back of Joshua's Big Spot Slipover.

This is my next project for the Baby Knitalong. The pattern is from Miss Bea's Colours, and I'm using Handknit DK. I'm trying to get this one off the needles as quickly as possible because I just received a new project in the mail which also calls for size 3 needles.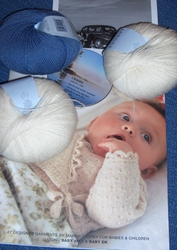 My secret pal sent a personalized coaster, the Jaeger JB29 magazine, and enough yarn to make the Charles sweater for Joshua.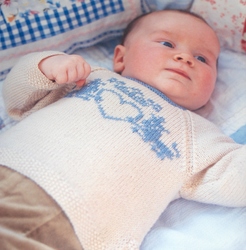 I can't wait to start this sweater! This magazine has several other great patterns as well, so I've already started rearranging my fall knitting to accommodate some of them. Thank you so much secret pal!
July 23, 2005
More Pieces for the Blocking Board
Both of Charlotte's Lacey Sweater sleeves are finished.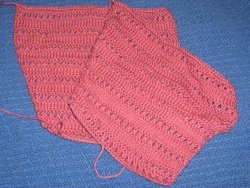 This sweater is joining Joshua's v-neck for the big finishing party I need to schedule soon. Both the Spring Fling sweater and Spot (another Joshua vest) are getting close to being on the guest list as well.
Charlotte attended her first birthday party today and had a blast.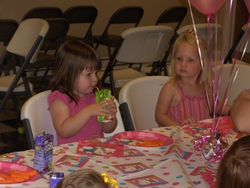 It was held at a gymnastics center, so there were big blocks for tumbling, hula hoops, trampoline floors, and a giant pit of foam blocks to jump in. She wasn't keen on the idea of actually jumping into the pit, but by the end, she had no problem swimmimg in it.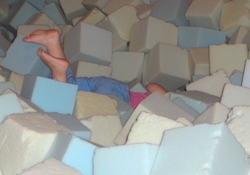 I'm starting to wonder where the little girl that loved firetrucks and trains went to. Charlotte is increasingly becoming more girly and less of a tomboy. I showed her a tan sweater the other day and asked her if she'd like for me to make it for her. She told me no, she wanted a pink sweater. Today, she had to wear a pink shirt to the party and have her hair curled like Mommy.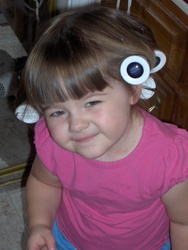 Thank goodness the Lacey sweater is pink.
July 19, 2005
Knit-along Updates
The front of Joshua's vest is blocking.

The first time I knit this piece, I came up 5 rows short of the back. After checking my modifications, I realized my mistakes. I wanted to work the neck over 26 rows. The last three rows are straight stockinette- no shaping. These three rows should have been subtracted from the 26, leaving me 23 rows to work the decreases over. Instead I subtracted three from the total number of rows and then subtracted 26 to see when I should devide the neck. For example, I have 48 rows total, I subtract 29 and end up with 19. That ws my first mistake. The second mistake was that I divided the neck on row 19 instead of row 20. So everything was pulled out past the neck shaping, the pattern was recalculated, and I got a finished front on the second try. After it's blocked, I'll sew up the shoulders and make sure it fits over Joshua's head before we get any further.
The yarn for sockapal-2-za arrived today.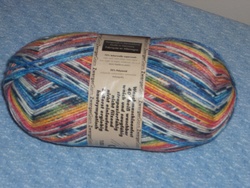 My sock pal wanted wild and crazy color, so I'm using Opal Brasil Multi, color number 5001. I'm swapping this project with the Opera scarf on my WIP list so that it will be finished sooner.
July 14, 2005
Christina's Attic is Two Years Old!
Two years ago, Christina's Attic was launched. (The attic part came from my maiden name, Grenier, which is French for attic.) At that point I was in the middle of my first real pattern, the tank top for Charlotte from the Debbie Bliss Baby Knits book. (I'd knitted some dishcloths and scarves before then, but nothing very impressive.) I'd fallen in love with the designs in this book and was inspired to bring my knitting to the next level so that I could make some of the garments for Charlotte. And that's been the blog's theme for the last two years, improving my knitting while increasing Charlotte's (and now Joshua's) wardrobe.
As luck would have it, I'm now in the middle of that same tank pattern. I finished the back last night.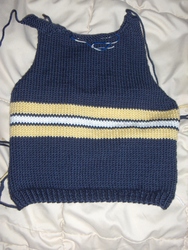 Other than the stripes, I followed this part of the pattern exactly as written. Today is the exciting/scary part, where I try converting the front into a v-neck.
Note: Charlotte's picture in yesterday's blog was actually the same picture used for her blog debut.
July 13, 2005
Argyle Vest
Here's Joshua in his finished vest.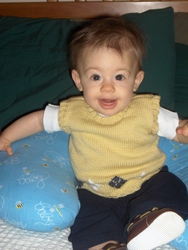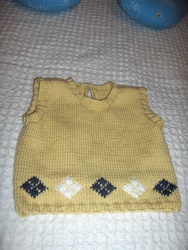 The pattern is from the Debbie Bliss Special Knits. I made the 6-9 month size and used two balls of the baby cashmerino in Pale Yellow and one each in Indigo and Ecru.
Joshua is getting ready to crawl; he's pulling himself up and rocking back and forth.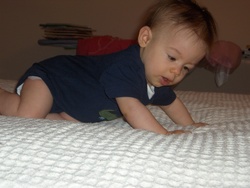 Joshua also got his first haircut today.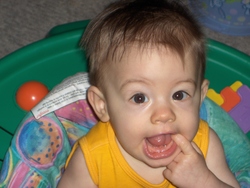 Now that the Argyle vest is done; I'm starting on my contribution to the Baby Knit-along. I'm doing a variation on this pattern.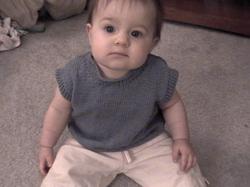 I made this top for Charlotte from the Debbie Bliss Baby Knits Book using Wool Cotton. For Joshua, I'm using baby cashmerino so I wanted to make a vest rather than a tank top. His version will be striped with a v-neck.
July 12, 2005
Thank you Secret Pal!
I received a package yesterday from my secret pal! Here's what she sent.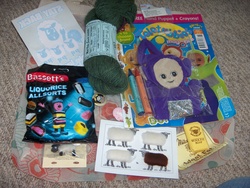 a fabulous Billy Bag (which is now full of my current WIPs), some candy, a hank of lovely green wool,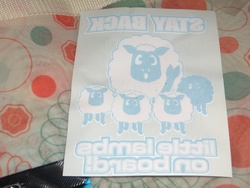 a window sticker (It says "Stay back, little lambs on board!),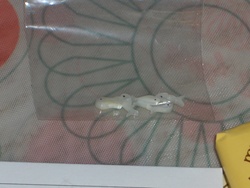 some beautiful fish beads,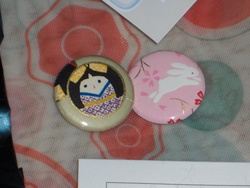 a couple of pins (These were made with some especially gorgeous paper.),

a little sheep magnet,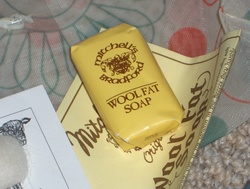 and some Wool Fat Soap.
Even the card is fancy!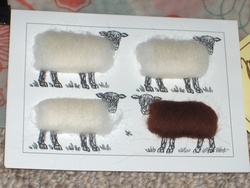 Charlotte really likes petting the sheep and telling me how soft they are.
Speaking of Charlotte, there were also treats for her.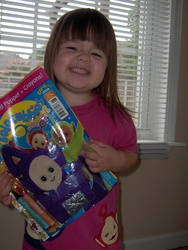 a Teletubbies magazine, crayons, and a hand puppet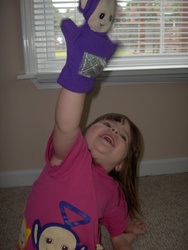 The puppet was a big hit with both kids. Joshua loves playing peek-a-boo with it.
Thank you so much secret pal!
July 10, 2005
I imagine that when most children wake up scared in the middle of the night, they call out for mommy or daddy. Not Charlotte- last night she woke up and yelled "Old MacDonald had a farm!". We'll see what song lyrics we're woken up with tonight.
The front of the lacey sweater is complete.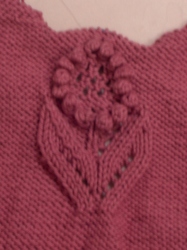 July 7, 2005
To those in London...
You are in our thoughts and prayers. I hope that you and your loved ones are safe and unharmed.
July 6, 2005
Spring Fling Update
The right front is finished.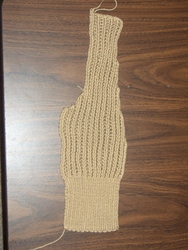 There are only two sleeves and some seaming left before I actually finish a sweater of my own.
July 5, 2005
Just Call Him "Mr. Slim"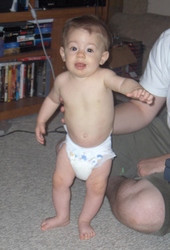 Joshua had his 6 month doctor visit today. He is measuring in the 80th percentile for height and the 20th for weight. It turns out that he's exceeded the height requirement for his carseat, so we need to get him a new one sometime this month. Charlotte used this same seat until she was close to a year old! Michael had mentioned that his feet were hanging off the end of the seat, so now we know why.
Joshua also cut tooth number two on Sunday. To correspond with his second tooth, here is the second piece of his argyle vest.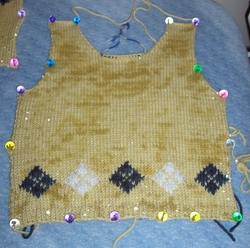 Now I just have to finish it before it's too short for him!
July 2, 2005
Cecile
Charlotte's tank is finished.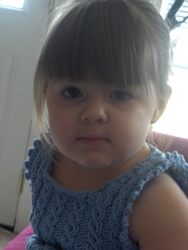 The pattern is Cecile from Bouton d'Or layette and junior #12. I made the 2 year old size and used two skeins of Ice Blue Cotton Ease. The only changes I made to the pattern were in the trim. For the arms, I did the first row in single crochet and only picoted every other stitch in the second row. For the neck, I only did one row of single crochet. The bottom was left without any trim.
July 1, 2005
The Colors of Summer
I am loving the colors in my knitting bag right now.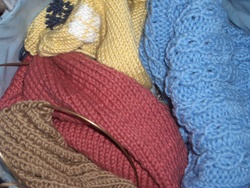 yellow- Joshua's vest; blue- Charlotte's tank; tan- spring fling
The rose knitting in the bag is one of my Summer of Lace projects.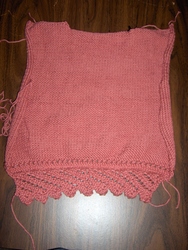 the back of the lacy sweater from Adorable Knits for Tots
I'm using Rowan Handknit DK in Rosy.
I also wanted to thank my secret pal for the nice e-card and Tori for the card and flower seeds (my first mailed RAOK!). Charlotte and I will be planting the seeds this weekend.