I am loving the colors in my knitting bag right now.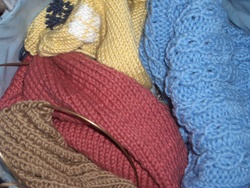 yellow- Joshua's vest; blue- Charlotte's tank; tan- spring fling
The rose knitting in the bag is one of my Summer of Lace projects.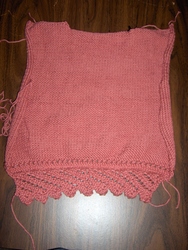 the back of the lacy sweater from Adorable Knits for Tots
I'm using Rowan Handknit DK in Rosy.
I also wanted to thank my secret pal for the nice e-card and Tori for the card and flower seeds (my first mailed RAOK!). Charlotte and I will be planting the seeds this weekend.