December 2005 Archives
December 30, 2005
Happy Birthday Little Boy!
December 27, 2005
Christmas with the Kids
We spent the weekend before Christmas visiting family in Georgia. The kids had fun seeing everyone and playing in the "snowstorm" at Stone Mountain.

Charlotte helped make lots of cookies for Santa, and both kids were pleased with their presents.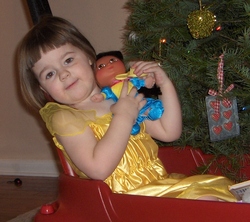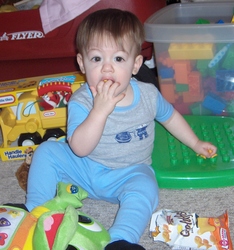 December 20, 2005
Christmas Scarf Number One
Crochet Ruffled Scarf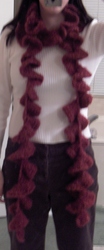 I love this scarf; it's made from Caron Bliss which is so soft. The pattern was from the back of the yarn wrapper.
December 13, 2005
Quick Updates
Joshua has hit a couple of milestones over the last month that I haven't had a chance to blog about.
On Nov. 10th, Joshua took his first steps. He can walk pretty far now, but he still prefers crawling.
Josh cut his first four teeth much later than Charlotte did. I guess he wanted to catch up by his first birthday, because he popped out three teeth between Thanksgiving and when we came home from Disney. (Charlotte had seven teeth by her first birthday.) He still has a couple of weeks, so maybe he'll pass her with eight.
I've almost finished a gift scarf; pictures will be up once it's done.
December 6, 2005
Disney
The kids had a great time on our trip. Joshua adored Winnie the Pooh.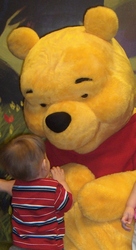 Charlotte loved shmoozing with Princesses.

Now that we're back, I'm trying desperately to get back in the holiday spirit. As a kid, I went to Florida every summer with my family, so even though Orlando was covered in Christmas lights and everywhere was playing Christmas carols, it seemed like July to me. (The sand, palm trees, and 80 degree weather did nothing to change this perception.)
It's been a few weeks since an FO, but I finally have another one. Here's the ripple baby blanket.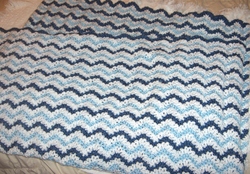 The pattern is from Our Best Baby Afghans. The yarn is Caron Simply Soft. I used 2 skeins of white, 1 skein of country blue, and 1 skein of soft blue.