The February socks are done!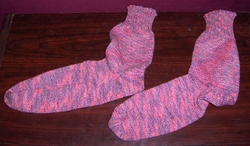 Yarn: Meilenweit Cotton socks
Needles: US 0
Pattern: Wendy's
These were for one of the ladies in my knitting group, and I'm happy to report that they fit and she likes them.
Sock Madness starts March 10th, so I'm waiting to cast on for more socks until then.