March 2008 Archives
March 31, 2008
Round Two
Reversai: Day One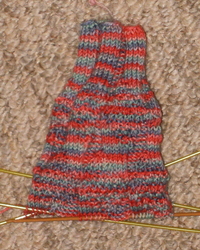 March 24, 2008
March 22, 2008
While we were out of town, Mike was busy turning his study into Nathaniel's bedroom.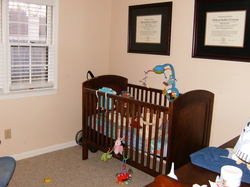 It's so nice to have a kid free bedroom again, and Nathaniel is handling the transition beautifully.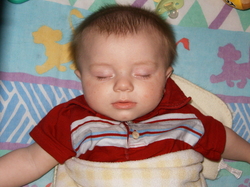 After a couple of nights at home, I've caught up on my sleep and am back to making progress on the zombies.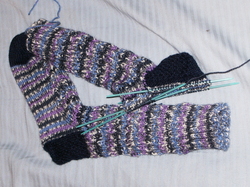 I'm in the midst of the Gusset decrease on sock 2. I'm hoping to nab one of the six spots left tomorrow.

March 21, 2008
The kids and I spent the last week visiting my family in Kentucky.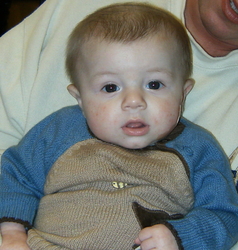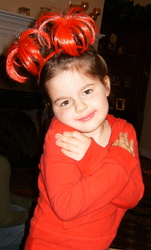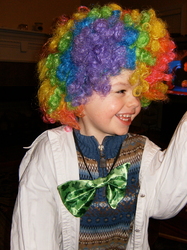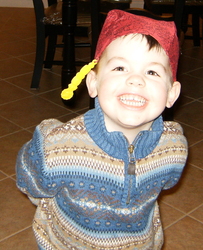 Being on my own with the three little ones was tough. I don't think I've felt this sleep deprived since Nathaniel was a few days old. I was barely able to get in the things I needed, like food and sleep, much less any extra stuff I wanted to do. So, my sock knitting suffered.
Currently, I'm finished with the first pattern repeat on the second sock.
March 14, 2008
The Madness Begins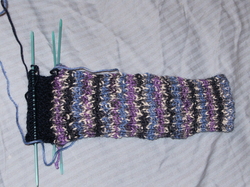 leg and part of the heel flap of my first Zombie sock for Sock Madness
March 13, 2008
Miss Diva
Charlotte attended a birthday party at Little Divas' Day Out and loved it. First the girls go to wardrobe for their costumes.


Next, it's time for hair and make-up.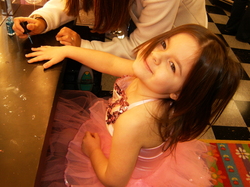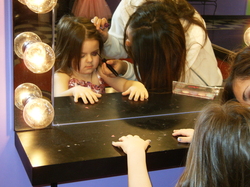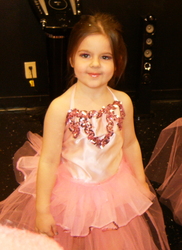 Afterwards, the girls dance on the stage, walk the red carpet, and sing on the karaoke machine. They had a blast.
Charlotte is also very excited to wear her new sweater.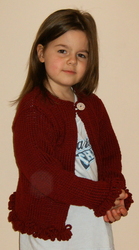 Pattern: Cindy from Rowan Babies
Yarn: 5 skeins Rowan Cork in SH049
Needle sizes: US 10½ and US 11
March 12, 2008
4 months
Nathaniel had his first taste of rice cereal yesterday and is eating it fairly well.


I hope the introduction of solid food in his diet will help him sleep better. We're on the second week of waking up every two hours during the night. I don't know what triggered this relapse, but I'm having a tough time juggling our schedules while sleep deprived.
As of today, Nathaniel is up to 14 lb 5 oz.
Here's the third of eight afghan strips.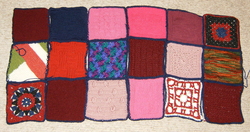 March 11, 2008
March 10, 2008
Nathaniel discovered his feet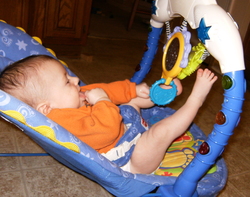 He's started kicking and sucking on his toes.
Here's rows 1 and 2 of the first 2008 V-day afghan.



We received enough squares for three blankets this year, and I'll be putting together two of them over the next couple of weeks. The finished blankets are raffled off to earn money for the community free clinic.