October 2004 Archives
October 31, 2004
October 30, 2004
Mail Time!
I finally received my birthday yarn; it's GGH goa in color #34.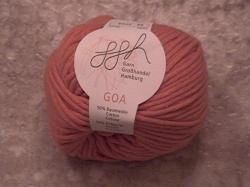 I was so excited that I started knitting my sweater right away and am now past the armhole decreases on the back. Unfortunately, after waiting so long for this yarn, I found out that there is a mistake in the pattern and I'm actually 4 balls short. Luckily, the store still has some of this dye lot in stock, and I should receive the rest of the yarn next week.
I also received an Amazon package.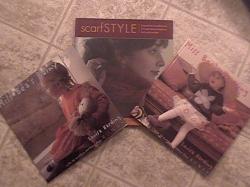 My Secret Pal sent me a gift certificate which went toward Miss Bea's Rainy Day, Miss Bea's Dressing Up, and Scarf Style. I am really impressed by the designs in the latter. Unlike many scarf books out now which are full of garter stitch patterns, this one actually has some original and beautiful pieces in it. Thank you Secret Pal!

October 29, 2004
Bath Recipes
Per Rebecca's request, here are the basic soap recipes. These are really easy and make great gifts.
Bath Salts
You'll need:
Coarse Sea Salt
Soap Fragrance
Soap Coloring
Pour 1/2 cup of salt into a small bowl. Stir in coloring until the salts are the desired color. Next stir in fragrance until the desired scent is reached. That's it. I usually package the salts in a jar unless they're being mailed, then I use a bag. You can find the salt in the health food section at the grocery store and the other supplies at a craft store.
Bath Soaps
You'll need:
Soap mold
Melt and Pour Soap base
Soap Fragrance
Soap Coloring
Cut the soap base into cubes. Put the cubes into a microwaveable cup, and following the directions for the soap, heat in the microwave until melted. Stir in coloring and fragrance until you get the desired color and scent that you want. Pour the soap base into the mold and let harden. After it's finished, pop out the soap and package as desired. All of the above supplies can be found at a craft store.
As you become more comfortable, you can experiment with mixing scents, colors, and ingredients to get different effects. For more ideas, a really good resource is Craft Magazine's Body Care Basics issue.
October 25, 2004
Happy Birthday Charlotte!
Charlotte is finally two years old!
To celebrate, we had cake and ice cream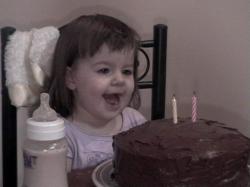 and Charlotte got to open her big present early so that she'd have more time to play with it.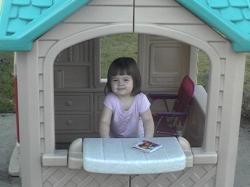 She even started showing off today by riding on her bike without any help from mommy or daddy. (Our backs really appreciate not having to push her around anymore!)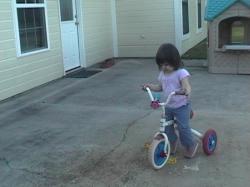 More pictures and some video will be up on Charlotte's page over the next week.
October 22, 2004
Thank you for all of the well wishes. I went in to my doctor yesterday, and it turns out the contractions I'd been having were coming every 3 minutes or so. Although the contractions weren't causing me to go into labor, their frequency was enough to concern my doctor. She put me on terbutaline which got my contractions under control last night, so I got to come home today. Now I'm just taking it easy, taking more medicine as I need it, and seeing the doctor every week. Overall I'm doing fine (happy to be home) and the baby's doing fine as well.
October 21, 2004
Well, after the previously positive posts, we have a bit of a turnaround. Christina's been having some contractions for the last couple of weeks. We went to her appointment this morning, and the doctor was concerned enough to send us over to the hospital for an IV, medications, and monitoring. After several hours of not knowing what was going on, the staff decided the contractions hadn't been sufficiently suppressed, so Christina's staying at the hospital overnight. The doctor still doesn't seem too concerned, since the contractions haven't caused any change in the cervix (it's still closed and thick), and she hopes more medicine might help balance things back out. Please keep Christina in your thoughts as we try to figure out what's happening.
October 19, 2004
I'd planned on posting yesterday, but ended up being so tired that I went to sleep right after dinner. There's plenty of stuff going on, so today's entry is a long one.
I finished my cat bed this weekend. Here it is before felting.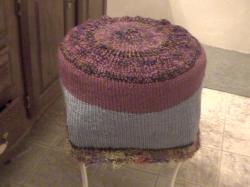 And here it is after.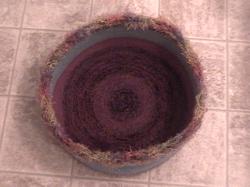 I used size 11 needles and two strands of worsted weight yarn. The yarn I used is Noro Kureyon, Patons Classic Wool, and Patons Cha-Cha. The prefelted diameter was 28 inches, and, after felting, the bed measured about 15 inches across. Here's a picture of Ferris in the bed to give a better idea of the size.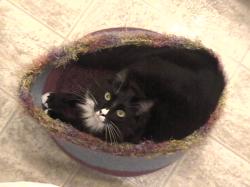 I also made a big batch of soaps.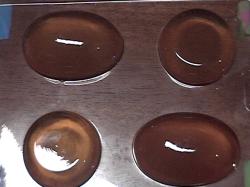 I tried out a honey blend fragrance, so my kitchen has smelt very sweet for the last few days. There's only one more item I need to make before my first gift basket is sent out.
Unfortunately, today brought a little bit of bad yarn karma. For my birthday, Mike ordered the GGH Goa needed to make the cover design on the Hollywood Knits book. The yarn wasn't in stock, so I waited about 4 weeks for them to receive it and send my order. The order was shipped on Oct 8th via UPS, so I was expecting it to arrive the beginning of last week. When it hadn't shown up by Thursday, I contacted the yarn company to find out where it was. I found out today that the box had been damaged in transit and was being shipped back to the company. Once they receive it, they'll determine what condition my yarn is in and either resend it or give me a refund. On one hand, yarn isn't very fragile, so maybe it'll be fine, and I'll just have to wait a little longer for the yarn. On the other hand, how damaged does a box have to be for UPS to send it back? I've seen some pretty rough looking packages delivered before, so I'm not overly optimistic that this will end with my yarn here safe and sound.
Although I'd find a man in a brown uniform with a box of yarn pretty attractive right now, I don't think he could beat how cute Mike was yesterday. He came home from work with roses for me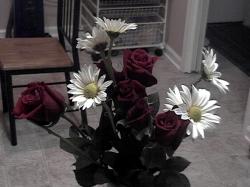 and a bouquet of carnations for Charlotte.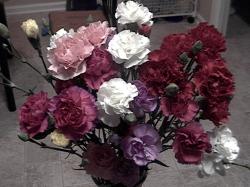 How can you not love a man who buys flowers not just for his wife but for his two year old daughter as well?
October 15, 2004
I'm in much better spirits than I was earlier this week. The baby isn't spending quite so much time with his head jammed up in my ribs, so I've regained some flexibility. Plus I've actually been able to sleep almost all the way through the night the last few days.
I didn't knit much today, but I did get a few batches of bath salts made up. I have several gift baskets to make up between now and Christmas, so everything is being made in bulk.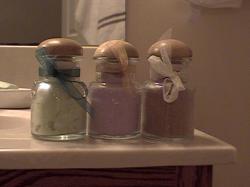 From left to right: Eucalyptus-Mint, Vanilla-Lavender, and Brown Sugar
The brown sugar flavor is a new one I'm trying out and it smells delicious.
October 14, 2004
Here's the latest quiz going around. While I would never call myself a guru, the description part is really accurate. (Just ask Mike.)

You appear to be a Knitting Guru. You love knitting
and do it all the time. While finishing a piece
is the plan, you still love the process, and
can't imagine a day going by without giving
some time to your yarn. Packing for vacation
involves leaving ample space for the stash and
supplies. It can be hard to tell where the yarn
ends and you begin.


What Kind of Knitter Are You?
brought to you by Quizilla

October 13, 2004
Mike had this past Monday off, so we spent the long weekend watching videos. Here are the results of all the available knitting time.
I'm to the beading on my Secret Pal project and will be working hard to get it finished and in the mail within the next week.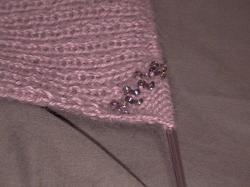 Squares 40-43: Only 7 more to go!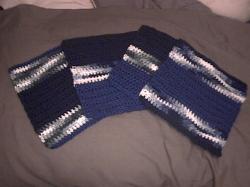 I also started knitting on Charlotte's red cable cardigan again. Right now, the back is about 80% complete.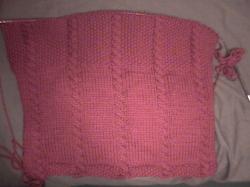 We also went shopping on Monday, and Charlotte got some pumpkin bedroom shoes. She was so excited when she tried them on that she started dancing in the store. Even with her shoes still tied together, Charlotte made it obvious that she has rhythm.

Thank you for all of the comments yesterday. I've just been a little down lately, and it helped to hear from someone other than Mike.
October 12, 2004
Sorry everyone, but this is just going to be a whiny post. If you're looking for Charlotte or knitting news, check back tomorrow.
This pregnancy is really getting rough. The baby is now up and down instead of sideways, so instead of poking my sides, he's pushing on my pelvis and ribs. Braxton Hicks contractions have started, making it hard to sleep at night. Most of the time, they'll subside, and then the baby will get into a position where he's just sitting there pushing out on my lower abdomen, causing the bottom of my belly to tighten again. The morning sickness has returned, so now I'm waking up tired and nauseous. Besides just feeling lousy, I'm getting too big to bend over, so I have problems putting on my own shoes and socks. Normally all of this wouldn't be so bad, but shopping for pregnant tops recently has just really made me depressed. It is nearly impossible to find maternity clothes that you like and that don't make you feel as big as a house. Last time I actually enjoyed being pregnant, but this time I just feel crummy, incapable, and unattractive.
Enough whining for today; I promise a real post tomorrow.
October 8, 2004
Projects on Parade
Sorry for the lack of posts this week; I've been too tired to blog the last two evenings. I have been busy knitting. Here are the current projects on my needles and their progress.
1. Vintage Knits Camisole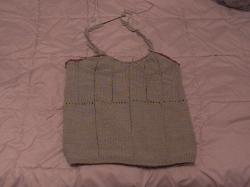 I only have one row of picot edging left on this tank before the straps are sewn and the ribbon put in. I've never been fond of crocheted picots and knitted ones are even worse, so this project is moving very slowly.
2. Drop Stitch Scarf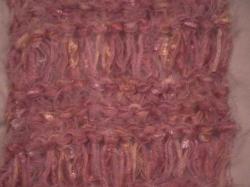 I finished this one last night. It uses one ball each of Lanna Grossa Viale Print and Lana Grossa Estivo and will be a Christmas present.
3. Blanket Statement Squares


I'm up to 39 squares now. Only 11 more to go.
4. Secret Pal Project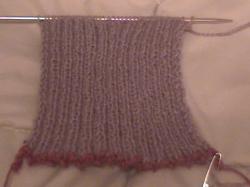 I'm using Blue Sky Alpaca to make this gift for my Secret Pal's last package.
5. Cat Bed for Kitty Bed Along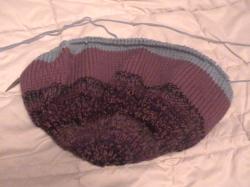 I have about 6 more inches to go before I start the sides.
October 5, 2004
October 4, 2004
We spent Saturday at the annual main street festival, and Charlotte had a ball. First, there was a parade that had almost every group imaginable from the town in it. We saw the middle school and high school bands, the high school homecoming queen, the girl scouts, the boy scouts, the Red Hat Ladies, the politicians, and every Miss Madison pageant winner, from the under two group all the way up to the 11th-12th grade. Best of all, we got lots of candy.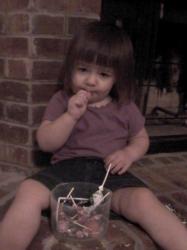 After the parade we checked out the arts and crafts fair, which had more booths giving away info for local organizations than actual vendors. It was a fun event, but we'll probably enjoy it more next year. Charlotte will be old enough to enjoy the kids area, and I won't be pregnant. (Bringing the baby out won't be a problem either. There are diaper changing and breast feeding areas.)

October 1, 2004
Have you seen this yet?
Normally, I wouldn't think too much about the possibility of a volcanic eruption on the other side of the country; however, my husband and this volcano have a history. You see, Michael, a first born son, was born on May 17th, 1980. The following day, Mount St. Helens welcomed him into the world. Now I've never had a problem being married to a man whose birth coincides with a natural disaster, but I don't know what to think if his first born son's arrival is also marked by activity from the same volcano.
In preparation of our new child, I've been plugging away at the baby afghan.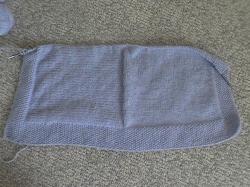 There are only a couple more inches until the halfway point.
We've passed the 100 day mark, just one week left until we're in the third trimester!