November 2010 Archives
November 25, 2010
November 21, 2010
November 16, 2010
Little Big Cable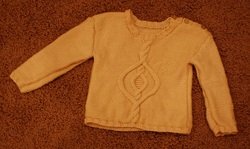 Pattern: Little Big Cable by Sublime Yarns
Size: 2-3 year
Needles: US 3 and 6
Yarn: 4 skeins of Jaeger Matchmaker Merino DK in Onion
November 15, 2010
November 11, 2010
November 8, 2010
Madelyn- 2 months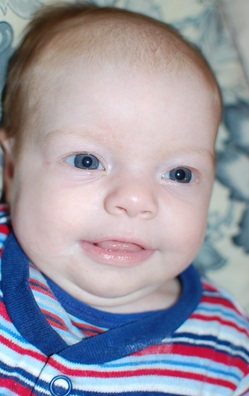 Madelyn turned two months old Saturday.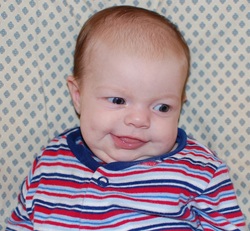 Her next doctor's appointment is this Friday. At one month she weighed 8 lbs, 11 oz. Although she'd passed her birth weight, she was only gaining about a half ounce a day- lower than what we'd like. She's strong, alert, and healthy though, so the doctor is letting us go the full month between weight checks.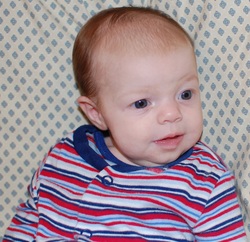 It took about 8 weeks, but she finally outgrew her newborn clothes and is fitting into the 0-3 month size.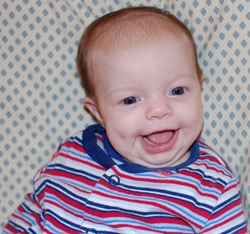 Her favorite song is "I've Been Working on the Railroad".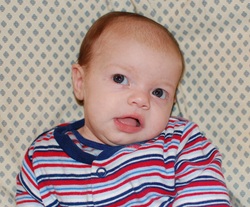 November 5, 2010
What a Week
Sunday- The trick for our Halloween was no electricity due to someone hitting a power pole just outside the subdivision. Power was restored about 9:30 that night.
Monday- Madelyn doesn't let me sleep until 3AM and then won't sleep for longer than 15-20 minute stretches during the day. I'm exhausted just in time for...
Tuesday- No school! Just when I'm ready to send back the older two, Charlotte wakes up vomiting.
Wednesday- Charlotte stays home. Joshua gets home sounding awful because he has croup. Nathaniel throws up at dinner. Joshua throws up in the middle of the night.
Thursday- Everyone is home. Joshua sounds worse and by dinner is running a fever. Charlotte is sick again during the night.
Friday- So everyone is home again today, and I'm posting at 3 in the morning because Madelyn won't sleep. I'm praying for a return to normalcy soon.