Making Lemonade out of Lemons
Here's the last sleeve for the bookworm sweater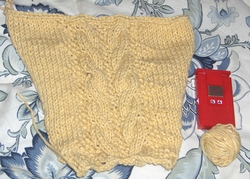 and to the right is all of the Orkney ASC I left.
This pattern calls for 5 balls of yarn. If there's one thing I've learned from the vast number of Miss Bea sweaters I've made, it's that I never use all of the yarn called for so I started this project with only 4 balls. Partway through, I realized that I'd used some of this yarn for Joshua's Bob, but since it was just a few stripes on a newborn vest I didn't think it would affect this project. As I was finishing the second sleeve, I realized I might not have enough to make the turtleneck in the pattern, so I started looking online for a place to get one more ball. That is when I realized I was in trouble. The color was discontinued, and the best I could do was pay around $40 on ebay for 18 more skeins. Considering that I need less than 18 yards to finish this, I couldn't really justify it. I then realized that on the Bob sweater, I'd used this yarn for the bottom border. It wasn't a whole lot, but the rows of ribbing combined with those few stripes used just enough yarn to make me run out.
So, I don't have enough yarn to finish the pattern as written- time to prioritize. I love the turtleneck and front cable. I really like the sleeve cables and the exposed shoulder seam. I can do without the back cable.
Plan A
Reknit the back in stockinette stitch. Seam the shoulders and knit the neck. If this doesn't work then we go to plan B which involves reknitting the sleeves in stockinette also.