Milestones and Mail
Joshua hit the one month mark yesterday and showed off his age by sleeping for 4 hour blocks during the night. It's been the best two nights of sleep we've had in a while. He also outgrew a couple of his hats. There's yarn for a few more in the stash, so his head should stay warm for the rest of the winter.
Here are the fun packages I received last week. First of all are the knitting related items.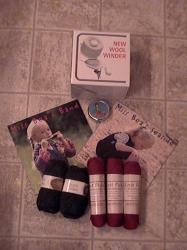 A ball winder, Miss Bea's Band, Miss Bea's Seaside, Knitter's Little Helper Hand Cream, 3 skeins of Wool of the Andes yarn in cranberry for a bucket hat, and some Peruvian Collection Quechua in charcoal for a gift I'm working on
I also received some soap supplies.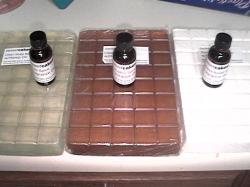 3 soap bases and fragrances
This package may not have contained any knitting supplies, but at least one of the fragrances claims to render men helpless, content to sit immobile for hours while you use their arms as a yarn-winder. lol
Just to prove there is actual knitting occuring, here is Joshua's striped hooded top.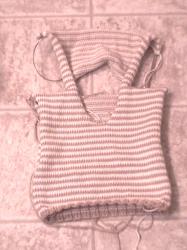 The hood is over halfway done; soon all that will be left is seaming and edging. I've started knitting 10 rows after every feeding. It's the only way I can make any progress in between my KIP nights.