May 2006 Archives
May 31, 2006
May 30, 2006
The first step is to admit you have a problem.
Here's why I joined SOS. (If you're standing, you may want to take a seat.)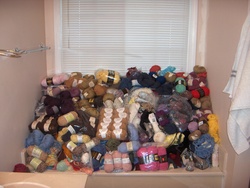 Yes, this is our master bathroom garden tub, and that's not even all of it. The rest had to be stacked on the floor.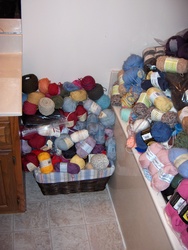 Hence the 50 FO summer. I already have FO #2- another Critter Knitter blanket.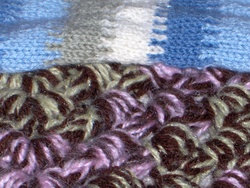 Plus, the first sleeve on Harry is done.
The temptations are already here; Knit Happens is having a Rowan sale this week.
May 29, 2006
SOS
I'm joining the Summer of Stash Knit-along. In order to reduce the stash, I'm aiming for 50 FOs before Labor Day. Many of these will be Critter Knitter blankets for The Basil and Abner Critter Charity Drive.
Here's blanket number one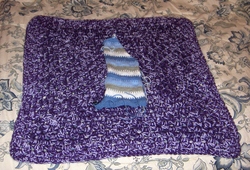 as well as another Harry piece.
One FO down, forty-nine to go.
May 24, 2006
Two more pieces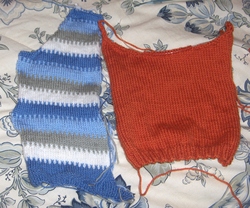 One and a half fronts for Josh sweaters
The extra knitting time lately is a result of the Suns playoff run. The overtime games and seven game series can be especially helpful.
May 23, 2006
Back to Back
Finished pieces for two Josh sweaters-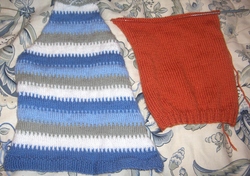 The backs for Harry and Wills.
Last week was the Yarn Expressions annual Spring sale, and here is what I scored at 50% off!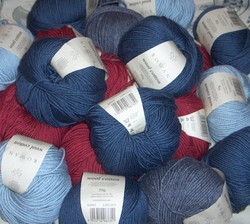 Wool Cotton for Hopeful, Holly, and Little Trees
May 22, 2006
Nothing but 4-ply
It's been lots of small yarn and small needles here lately.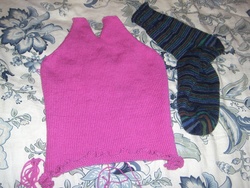 Notable accomplishments are the back for True Love and a finished green stripe sock.
Charlotte's ballet recital was this past Saturday.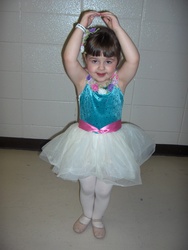 (The dress rehearsal video is here.) I think she had a lot of fun, and really enjoyed having some relatives come out to see her performance.

May 16, 2006
My knitting lifestyle has not been lost on Charlotte. After weeks of begging, her dollhouse mom now has her own knitting supplies.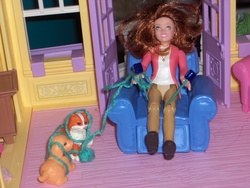 complete with pets to play with the yarn
Charlotte also wants to learn how to knit, so we started out with a knitting machine from Michaels. Depending on the setting, it can knit circularly or flat, so for Charlotte's first project we made a shrug.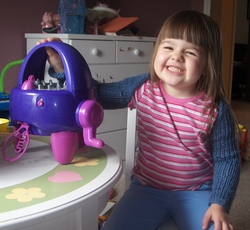 She's terribly proud of her knitting.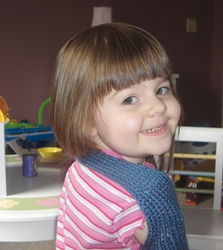 May 10, 2006
Bookworm
Thanks to some help from Katie and an extra skein of yarn from Karen, Bookworm was finished without any ripping of the back or sleeves.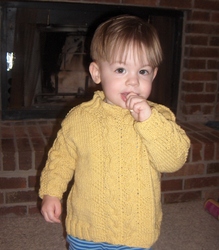 This sweater was from Miss Bea's Rainy Day and took 5 balls of Orkney ASC.
Here's Joshua attempting the model's pose.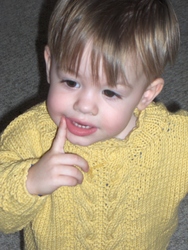 May 4, 2006
Here's the May Project Spectrum basket.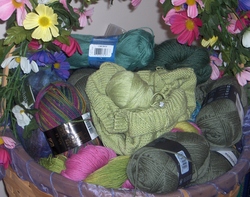 Hopefully I'll finish more projects this month than last.
I do have a new FO- Clapotis.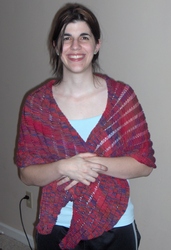 This took just over 6 skeins of Artyarns Supermerino in color #111. (In case you are curious, I ended up with a very happy solution to my Bookworm problem. More on that next post.)
The Cable and Moss Stitch Jacket is also progressing with one sleeve completed.