I'm joining the Summer of Stash Knit-along. In order to reduce the stash, I'm aiming for 50 FOs before Labor Day. Many of these will be Critter Knitter blankets for The Basil and Abner Critter Charity Drive.
Here's blanket number one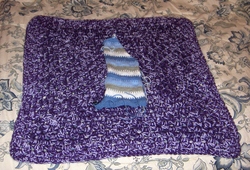 as well as another Harry piece.
One FO down, forty-nine to go.