August 2006 Archives
August 28, 2006
August 18, 2006
The Pitter Patter of Little Feet
August 17, 2006
Ch-ch-ch-ch-changes
Thanks to Amy's wonderful work, Joshua has finally found a place in the blog header. Thank you Amy, it looks great.
Charlotte started preschool today.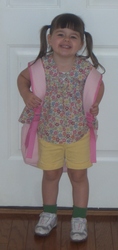 It's only four hours/ two days a week, but I was still a little teary leaving her this morning. She of course loves it and would like to live there from now on.
I'm plugging away at the seaming on Spring Fling. I think it would look much more flattering if I was about 15 pounds lighter, so I'm not sure how much wear it will get this summer.
For a quick fix, I made another baby hat- this time for the Caps for the Capital campaign.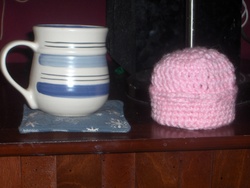 The mug is there to give you an idea of how small this hat is.
Speaking of baby hats, check out the awesome response of knitters for Jeanne's breastfeeding awareness initiative.
August 16, 2006
Joshua's New Blanket
FO 31 was done just in time to comfort Joshua during a case of the sniffles.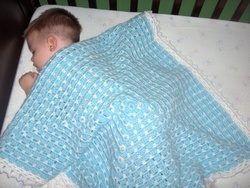 Pattern: Soft and Wonderful from Our Best Baby Afghans
Yarn: Caron Dazzleaire
August 15, 2006
The Monkey Sweater
Charlotte has some monkey pajamas which are her absolute favorite right now.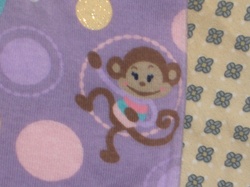 She especially likes the striped shirt worn by one of the monkeys and has been begging for a sweater to match. So far, we have a back.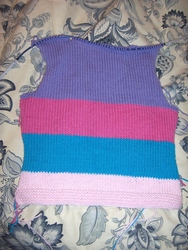 This is a pretty simple knit- just a more fitted version of the Big Push Sweater from Miss Bea's Playtime. I'm using Strawberry Cream, Popsical Blue, Bubble Gum, and Sugarplum Cotton-ease for the stripes.
August 14, 2006
SOS Update
Here are my exceptions gathered from the Smiley's sale and a visit to Knit Happens.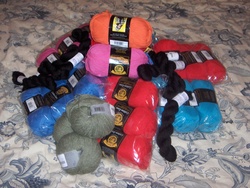 Cotton-ease, Debbie Bliss Pure Silk, and Rowan Cashcotton- 39 balls total
Unfortunately, my yarn usage hasn't surpassed my buying these last few weeks. All I've finished are three hats for the Preemie Project putting the total at 30 FOs.