Thanks to Amy's wonderful work, Joshua has finally found a place in the blog header. Thank you Amy, it looks great.
Charlotte started preschool today.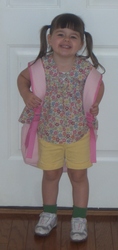 It's only four hours/ two days a week, but I was still a little teary leaving her this morning. She of course loves it and would like to live there from now on.
I'm plugging away at the seaming on Spring Fling. I think it would look much more flattering if I was about 15 pounds lighter, so I'm not sure how much wear it will get this summer.
For a quick fix, I made another baby hat- this time for the Caps for the Capital campaign.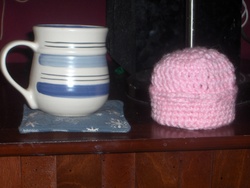 The mug is there to give you an idea of how small this hat is.
Speaking of baby hats, check out the awesome response of knitters for Jeanne's breastfeeding awareness initiative.