February 2006 Archives
February 28, 2006
February 21, 2006
Charles is finished!
Here is the Charles sweater in all its glory!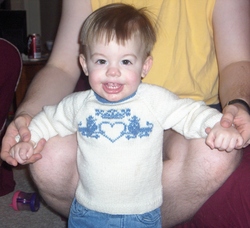 Pattern: Charles from Jaeger magazine JB29
Size: 6-12 months
Yarn: 3 balls Jaeger Baby Merino 4-ply in Pearl (#103) and 1 ball in Blue Ball (#127)
Needles: 2.75 mm and 3.25 mm
Comments: I really enjoyed the swiss darning. This was my first time finishing raglan sleeves, and I think it went all right. This sweater is definitely a keeper.
I also found out that Kim's baby girl was born, so I need to kick it into high gear on the ABC blanket. Here're the next 5 letters.
February 9, 2006
Baby Blankets
Thanks for the huge outpouring of support. I'm still fighting the depression, but I think I'm doing better at keeping everything in perspective.
One thing that really helps to boost the self-esteem is a great haircut.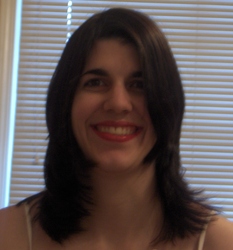 (Not the most detailed hair picture, but you get the idea)
I've spent the last few weeks working hard on a last minute crocheted commision project.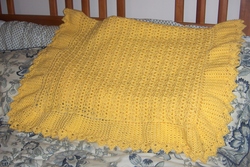 This is the Heirloom Ruffles pattern from Keepsake Baby Afghans. I used a size H hook and 10 skeins of Caron Simply Soft in Jonquil.
Now that that afghan is in the mail, I've had time to work on the ABC blanket. Here's the second row.