The Turkey Countdown
My husband has a job where it is very difficult to get time off, so, rather than face all of the holiday travel traffic, we get to have a nice Thanksgiving at home. For the first time since we've been married, we won't be running from one parents' house to the next for dinner. While I enjoy starting our own holiday traditions, I'm terrified of cooking the Thanksgiving turkey. About the only thing more worrisome than cooking the turkey is what to do with all of the leftovers. We have a 14 pound turkey for two adults and a one year old, so I might be eating turkey every day from now until Christmas. Does anyone have leftover turkey recipes they care to share?
I finished the child socks. One ball of yarn was dyed better than the other, so while the pattern matches on both socks, the color isn't quite the same. One sock has more white spots mixed in.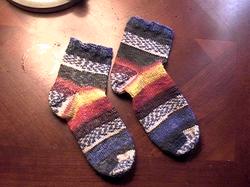 Does anyone have a suggestion for a pretty bind off? I'm knitting the sock with size 0 needles and binding off with a size 3 to ensure my bind off isn't too tight for getting the sock on, but this results in a sloppy looking finish. Any suggestions?
Somewhere between making rolls and pie, I'll start another sock today. For those who will be celebrating tomorrow, happy Thanksgiving.