My second black crocheted ski hat is almost complete.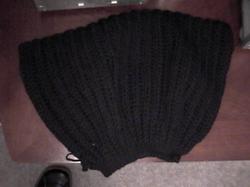 I have about ten more rows before it's sewn up.
My socks are also close to completion.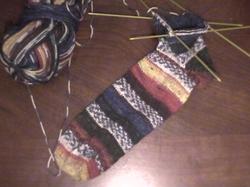 I finished the heel last night and now only have about seven stripes left. I plan to finish these two today, so by Monday's post I should have at least three of my gifts knocked off! Still remaining on my mailing list are 4 pairs of socks, 6 hats, one sweater, and a pair of gloves. We'll see if everyone gets their knitted gift or I just save it for their birthday. The other two gifts are ones that aren't mailed and have already been started, so I'm not worrying about them currently. I bought needles for some bucket-o-chics and got the rest of my sock yarn today, so I'm ready for a nice weekend of knitting on the couch. My only problem is which sock to start next.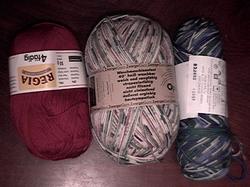 My choices are plain red Regia, multicolored Lollipop Opal, or blue and green Jawoll Jacquard by Lang. Any preferences?