I've joined alison's gift along and was somewhat embarrassed by my lack of progress given that of the other participants, so here is the first finished Christmas present, a black ski hat.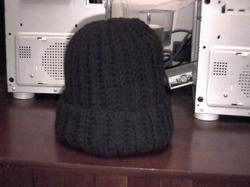 I'm also working to knock out my first pair of socks. This picture shows the color much better than the last.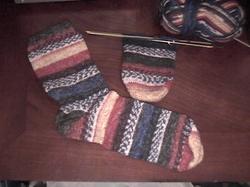 Yesterday, I broke down and bought the bucket-o-chic pattern. I've seen a lot of great variations on other blogs that use yarn already in my stash, so I decided to make a few for Christmas gifts.
I'm thankful to have all of this gift making to keep me busy. My car was totalled and right now we just can't afford payments on another one which means I'm no longer working for the paper. (Delivering papers was a great job for a mom with a young child. Charlotte would sleep in her car seat while I worked.) I enjoy being a sahm, but it's hard when money is tight and I know I'm not contributing to our income. Making gifts lets me feel that I'm giving something nice to loved ones and saving us some money. (My stash is large enough to cover many of my gifts.) I have the yarn, now I just need Charlotte to let me knit.
Speaking of Charlotte, you didn't think I could get some pictures without her jumping in, did you?