My husband had Tuesday off so he took me up to Alexandria to try another yarn shop for needles. I found my needles and had a wonderful time looking at yarn and patterns. In addition to my 2mm Pony Pearls I bought two balls of Schoeller Stahl sock yarn in color 9069 to start a pair of Wendy's Toe-up Socks. Here's my sock progress so far.

I was able to start on the socks last night because I finished my secret project, Geane's Extreme Hedonism. Here's a picture of the finished project.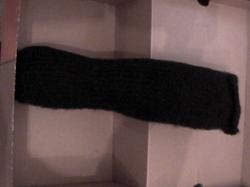 I used Lion Brand Jiffy and US 6 dpns. I had to change the number of stitches because my gauge was different from Geane's. Other than that everything was straight from the pattern.