Over the weekend I finished my first pair of socks.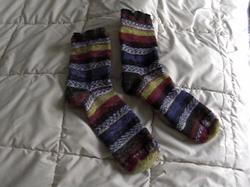 I'm very excited that they match so well. (If I hadn't read other people's blogs I probably wouldn't have thought about matching the pattern on the two socks.) I started on child size socks using what yarn was left over from the first pair. Here is the first finished sock.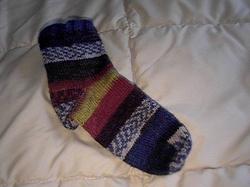 I'm casting on for the second of the pair today.
I also finished the black ski hat. Next on my list is another ski hat in blue. I'm also trying to finish the embroidery on the black jacket. I'd like to use some of the embroidery yarn in some bucket-o-chics, but I need to make sure I use as much as I need for the flowers first. About 14 flowers to go.
And for your viewing pleasure, here is Charlotte pushing the cats around in her stroller. Sloan is resting on the shelf under the seat, and Ferris is in the actual seat part.