The body to Haiku is now complete.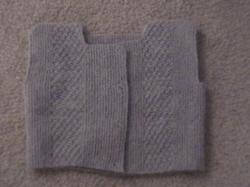 I've enjoyed working with dpn so much on the secret project that I've decided to knit the sleeves right onto Haiku rather than knitting them separate and sewing later. Picking up stitches isn't easy with Charlotte around though. She currently enjoys playing tug of war with my knitting. She'll pull on the yarn, the needles, even the piece itself. Luckily I haven't lost any stitches so far. I'll start the sleeve tonight during bath time, so she'll be otherwise occupied.
The secret project is almost finished. I'll reveal it and post pictures later this week.