Charlotte has some monkey pajamas which are her absolute favorite right now.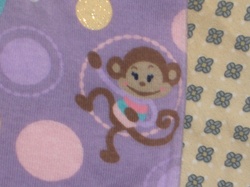 She especially likes the striped shirt worn by one of the monkeys and has been begging for a sweater to match. So far, we have a back.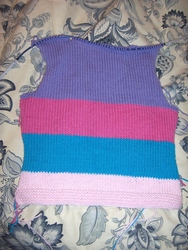 This is a pretty simple knit- just a more fitted version of the Big Push Sweater from Miss Bea's Playtime. I'm using Strawberry Cream, Popsical Blue, Bubble Gum, and Sugarplum Cotton-ease for the stripes.