The kids had a great time on our trip. Joshua adored Winnie the Pooh.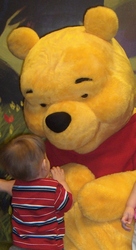 Charlotte loved shmoozing with Princesses.

Now that we're back, I'm trying desperately to get back in the holiday spirit. As a kid, I went to Florida every summer with my family, so even though Orlando was covered in Christmas lights and everywhere was playing Christmas carols, it seemed like July to me. (The sand, palm trees, and 80 degree weather did nothing to change this perception.)
It's been a few weeks since an FO, but I finally have another one. Here's the ripple baby blanket.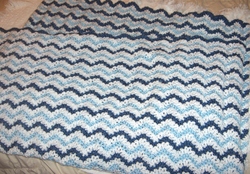 The pattern is from Our Best Baby Afghans. The yarn is Caron Simply Soft. I used 2 skeins of white, 1 skein of country blue, and 1 skein of soft blue.