Here's Joshua in his finished vest.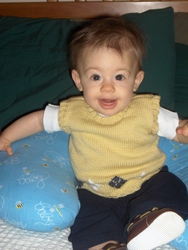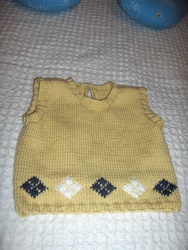 The pattern is from the Debbie Bliss Special Knits. I made the 6-9 month size and used two balls of the baby cashmerino in Pale Yellow and one each in Indigo and Ecru.
Joshua is getting ready to crawl; he's pulling himself up and rocking back and forth.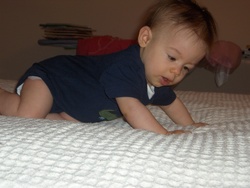 Joshua also got his first haircut today.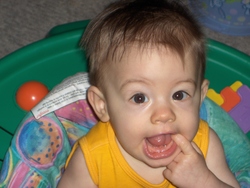 Now that the Argyle vest is done; I'm starting on my contribution to the Baby Knit-along. I'm doing a variation on this pattern.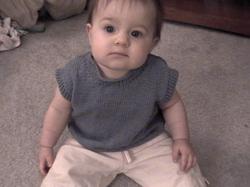 I made this top for Charlotte from the Debbie Bliss Baby Knits Book using Wool Cotton. For Joshua, I'm using baby cashmerino so I wanted to make a vest rather than a tank top. His version will be striped with a v-neck.