Two years ago, Christina's Attic was launched. (The attic part came from my maiden name, Grenier, which is French for attic.) At that point I was in the middle of my first real pattern, the tank top for Charlotte from the Debbie Bliss Baby Knits book. (I'd knitted some dishcloths and scarves before then, but nothing very impressive.) I'd fallen in love with the designs in this book and was inspired to bring my knitting to the next level so that I could make some of the garments for Charlotte. And that's been the blog's theme for the last two years, improving my knitting while increasing Charlotte's (and now Joshua's) wardrobe.
As luck would have it, I'm now in the middle of that same tank pattern. I finished the back last night.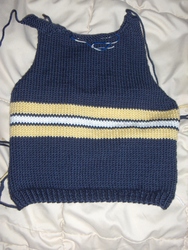 Other than the stripes, I followed this part of the pattern exactly as written. Today is the exciting/scary part, where I try converting the front into a v-neck.
Note: Charlotte's picture in yesterday's blog was actually the same picture used for her blog debut.