Both of Charlotte's Lacey Sweater sleeves are finished.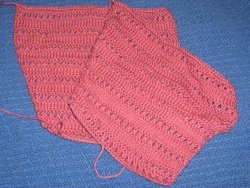 This sweater is joining Joshua's v-neck for the big finishing party I need to schedule soon. Both the Spring Fling sweater and Spot (another Joshua vest) are getting close to being on the guest list as well.
Charlotte attended her first birthday party today and had a blast.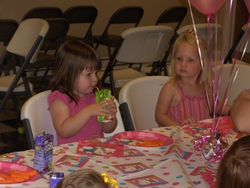 It was held at a gymnastics center, so there were big blocks for tumbling, hula hoops, trampoline floors, and a giant pit of foam blocks to jump in. She wasn't keen on the idea of actually jumping into the pit, but by the end, she had no problem swimmimg in it.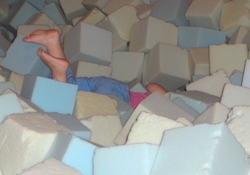 I'm starting to wonder where the little girl that loved firetrucks and trains went to. Charlotte is increasingly becoming more girly and less of a tomboy. I showed her a tan sweater the other day and asked her if she'd like for me to make it for her. She told me no, she wanted a pink sweater. Today, she had to wear a pink shirt to the party and have her hair curled like Mommy.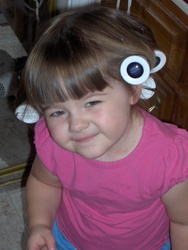 Thank goodness the Lacey sweater is pink.