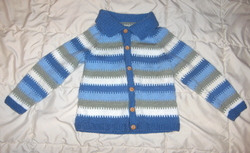 Pattern: Harry from Jaeger #29
Yarn: 1 ball each of RYC Cashsoft in Spa, Jaeger Matchmaker 4 ply in Thyme, Baby Merino 4-ply in Pearl, and 2 balls Baby Merino in Blue Ball
I originally started this sweater for Josh in May 2006. Although all of the pieces were knitted by last September, it took me until now to finish it. Instead of Joshua, this sweater will go to Pollywog in the next couple of years.
The next sweater in the queue is MacDonald. Here is the back.