3 out of the 8 scarves are completed.


The brown one used one ball of Knitting Boucle yarn and size 9 needles.
The blue one used one ball of Milan Tricot Scandal and size 15 needles.
Both are garter stitch.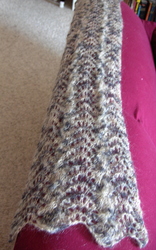 This scarf used two partial balls of Crystal Palace Kid Merino and size 8 needles. I used the Cable Feather Pattern from Barbara Walker's 2nd Treasury.