To be honest, I'd really thought I was doing well reducing the yarn stash. Then, I did the tub test.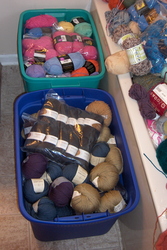 Summer is starting; it's a good time to reevaluate my goals and join the Summer Stash Out.

My Goals for Summer 2007 (Memorial- Labor Day)
1. Finish 5 pairs of socks
2. Finish 8 scarves
3. Finish 6 sweaters- Harry, Wills, Macdonald, Truelove, Holly, and Little Trees
4. Row 300 of the My House Blanket
If you're also setting summer goals, check out this contest before the 31st. If you feel like it, mention that you heard about it here.