because my camera software is not working properly. It should be fixed by tomorrow.
I have another project to rip. Remember the red Cable & Moss Stitch Jacket for Charlotte.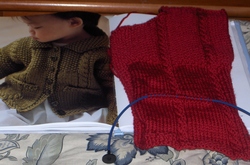 I was so sure I'd finish it before she outgrew it. Well, it didn't happen. Now I could finish it for Josh, but I don't feel a big masculine pull with this one. So I think I'll use the yarn for this sweater from Adorable Knits for Tots instead.