This is the best time of the year for TV knitting; we've got GA Tech basketball and football games. Even better than that is the fact that both teams are doing well. I got spoiled my first 3 years at Tech with us beating UGA. It'd be so sweet to finally see it happen again this weekend.
Most of my knitting from tonight's game will be undone unfortunately due to a pattern mistake. I finished the first sleeve only to find that it's 3 inches too long. I have the errata for Hollywood Knits; I just didn't look at it closely enough before knitting. I'll rip and reknit during tomorrow's basketball game.
Luckily I had an easy secret knit to soften the blow.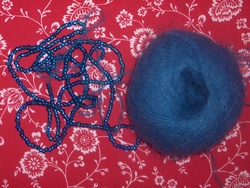 What do you get by combining beads and a ball of Crystal Palace Kid Merino?