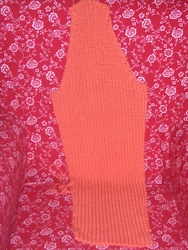 I ran out of beads on the secret knitting tonight, so that's on hold until Friday. The big contenders for Turkey Day are Scooby and the heart and stars blanket. As long as the food is under control, maybe there will be some knitting during the Macy's parade.
Charlotte managed to shake her fever for Saturday and Sunday, but it found her again Monday. It's not strep, so currently we're still "treating the symptoms". The Motrin/ Tylenol cycle is keeping her from feeling lousy, but I'd like to see her get over this.
We did manage to get our Christmas pictures done today. Charlotte was great, but Josh was just wild. If we got him posed, he wouldn't smile. For the most part he just wanted to run around. The best picture he had was when we tried to have one with just Charlotte and he ran in wanting to sit on the chair with her. We put him up, they smiled, she took the picture, and he took off again all within less than ten seconds. We're going to have a long session in January when he gets his two year pictures.