I streched my birthday out long enough; here's the rest of the stash enhancement.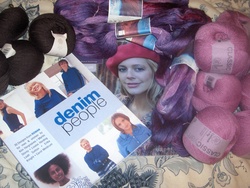 Yarn and the pattern for the t-shirt sweater
Yarn for a Tempting II
Yarn to make Julia
I was also pleasantly surprised to receive the Denim People book and a Yarn Expressions gift certificate. I guess my friends and family know that I like to knit.