Where have your handknit socks been?
My socks have been in VA, GA, AL, MI, TN, SC, NC, KY, MA, and CA.
What is the furthest they have traveled?
My sock war socks traveled all the way from Alabama to the UK.
My first socktoberfest socks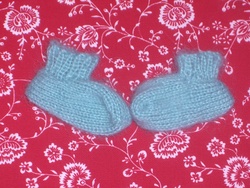 This is the start of my Dutchican knitting.
The pattern is the baby bootie pattern from Last Minute Knitted Gifts, and the yarn is Venice by Passport Yarn Co.