It's been really busy around here the last couple of months. I completed another sewing project.
I've also been taking pottery classes. Here's the best stuff from the beginner class.

The tallest pot is only five and a half inches and not everything has been glazed yet.
I like throwing so much that I started pricing wheels (pottery, not spinning). I'm in the middle of the intermediate class now, so maybe I'll have some really cool pots to show soon.
Charlotte has outgrown her old handknitted socks, so after lots of begging, she finally got a new pair.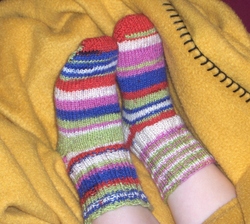 These are an adapted version of Wendy's Toe-up pattern. Most of the yarn used is Magic Stripes in Jelly Bean, but there is some white Regia and Knit Happens Lorna's Laces tossed in there to finish off the second sock.
Shockingly enough, that foot shot is Charlotte's 2006 debut here at Christina's Attic. Here's a better picture of her before her recital pictures.