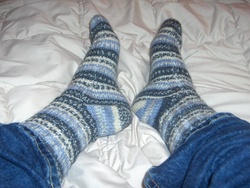 I was floored to receive these socks in the mail from Bev, my sockapal-2-za angel. She made these while grieving the loss of her father, so I'm completely humbled by the fact that she decided to give them to me. She used Knit Picks Simple Stripes in the Storm colorway. These are very comfortable; I've already worn them twice in the one week I've had them. Thank you Bev for your generous gift.
This week's finished object is the Big Spot Slipover which has been languishing in my sewing basket for the last 6 months.


Pattern Source: Miss Bea's Colours
Size: 1-2 years
Yarn: 2 balls of Rowan Handknit DK in color #239
The newest project on the needles is the Debbie Bliss Alphabet Blanket for a baby due in February. Here's the first row of letters.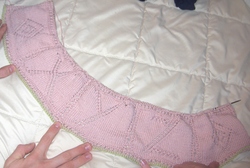 After spending a couple of months trying to decide on the best yarn for this project, I finally went with the DB Baby Cashmerino.