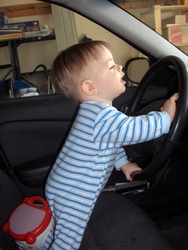 We started our trip on Thursday afternoon by driving halfway to Northern Virginia. We made it to Alexandria Friday night, and by that time, the kids were worn out from all of the driving.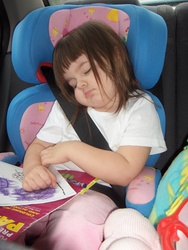 Charlotte actually fell asleep mid-coloring on her worksheet.
Saturday, I got to spend the afternoon at Knit Happens with Holly, Carol, 4-ply Katie, Courtney, and Shanti. The day reminded me why I miss hanging out with the irregulars on a regular basis. These are some of the most inspiring and supportive people I know. I felt more at ease after a day with them than I have in months. Unfortunately, I can't bring KH here, so I did the best I could and brought home lots of yarn instead.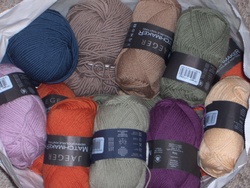 There's some Aurora 8 to make this sweater from the Fall 2004 Vogue Knitting,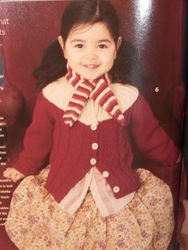 some Matchmaker 4-ply for Harry,
and lots of Matchmaker DK for Leo, Peter, Jenny, Wills, and Jimmy. (In my defense, all of the yarn was on clearance.)
After I lugged my new stash back to the hotel, we took the kids to Dulles Town Center to use up some energy on the indoor playground.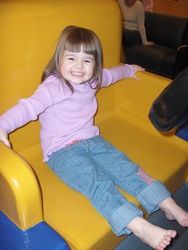 Charlotte is taking a break from driving the baggage cart.
They also had fun with the carousel. Charlotte got to ride