Monday was another good meetup. We had everyone from last week plus Margaret, who just moved here from Maine. Margaret is the knit-along queen; she's knitted or plans to knit Rogue, the Hour Glass Sweater, Klaralund, and the Knit Picks Kimono Sweater. Her project list is all the stuff I've been tempted by but haven't bought yet, so I can't wait to see how her sweaters progress each week. When I wasn't drooling over other people's projects, I managed to finish the first Lornas Lace sock.

A good friend of mine is expecting her first child (a girl) in February, and I'm trying to decide between two blanket patterns for her. The first one is the Dots and Stripes Blanket from Adorable Knits for Tots.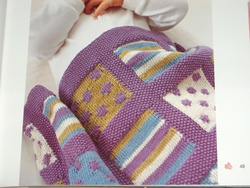 I like this blanket better, but I'm worried about weaving in all of the ends so that they don't show.
The second choice is the Debbie Bliss Alphabet Blanket.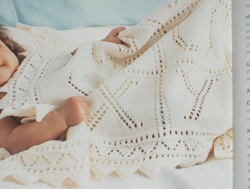 This one will have more seaming, but less yarn end weaving.
So what do you guys think? What's the best method for weaving in ends so that they don't show or come loose later? Kim lives in Florida, so either blanket will be made with a cotton blend yarn. Thanks in advance for any input.