We spent last weekend visiting family in GA, and I got a sewing lesson from my MIL. I found it much easier to control the speed on her machine, and, by the time we left, I'd made a pair of pants for Charlotte. (It didn't hurt that my MIL was kind enough to take out any of my mistakes.)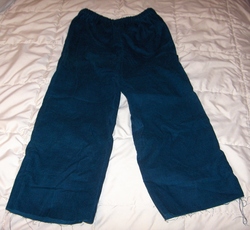 These are a size too big for Charlotte, so they won't be hemmed until next fall.
Now I just need a little spare time this weekend to try sewing up her red capris to go with the strawberry tank top.
Charlotte received a princess crown and wand from my mom on Saturday, and has brought them everywhere since then. She especially likes to sing "I Love Being a Princess" (from the Backyardigans) while wearing her crown. Here she is riding her bike around the neighborhood.


Thank goodness it was Michael that took her royal highness to the grocery store this weekend and not me.
And last but not least, Joshua managed to cut his third tooth Sunday.