It's September 1, nearly the end of summer, so the time has come to wrap up some loose ends.
First of all, a big thank you goes out to my Secret Pal- Jess of Scarf-o-matic. You have really spoiled me rotten these last few months.
I in turn was spoiling Sandra. Stop by and say "Hi" to her and her cute daughters at Stay At Home Knitter.
In Summer of Lace news, here are my latest progress reports.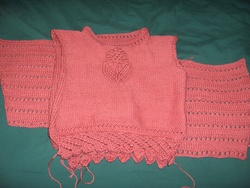 The Lacy sweater is slowly moving toward completion. The seams on this sweater are awful, but, at the speed Charlotte moves, I'm not sure many people will notice.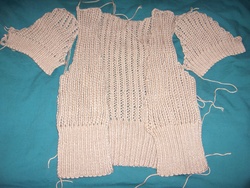 The Spring Fling Cardigan has all its pieces; it just needs to be seamed.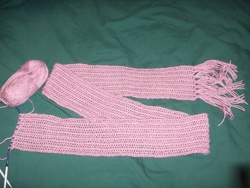 The Opera Scarf is partially fringed. I'm knitting this one until the yarn runs out, so I'm not exactly sure how much farther I have left to go.