Sugar 'N Spice is finished.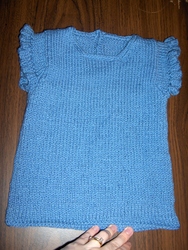 This is a Minnowknits pattern, and the yarn is Mission Falls Cotton in Skye. I used the two year old sizing for the width of the sweater and the four year old sizing for the length. Also the bottom of the sweater is supposed to be hemmed. I didn't realize this when I was knitting the front and back, so I assumed the instructions were wrong and knitted the whole thing in stockinette stitch. Since I didn't have a hem to keep the bottom from rolling, I added a row of single crochet. This pattern is labeled as a Quick Knit; it only took three days to knit all the pieces. The sewing and finishing only took a couple of nights, so this whole sweater could have been completed in less than a week. I was worried about running out of yarn, but ended up having just enough.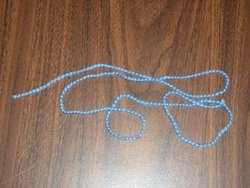 This is the two feet of extra yarn I had left.
Here's the button Charlotte chose for the back.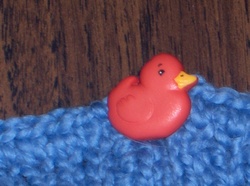 Charlotte went to bed before I finished the sweater, so no model shots until tomorrow.