Most of the ladies in my craft group are seamstresses so it was only a matter of time before I started sewing as well. Kristy decided to take me under her wing, and the two of us went shopping for a pattern and fabric last week. I decided to make a tank top and capris for Charlotte using some strawberry fabric for the top and red for the bottom.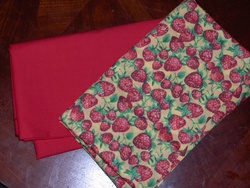 We've had one sewing session so far, and here's the result: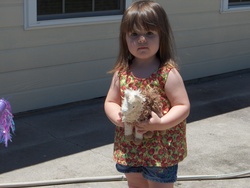 Don't worry; it'll be a while before I trade in my knitting needles for the sewing machine. I think I only sewed one shoulder seam on this whole tank! I did cut the fabric and do about half of the pressing, but I need to practice with my machine a lot before our next session if I'm going to get straight seams. I do understand sewing patterns and how to operate my machine better, so I'm learning a little bit.
Charlotte now gets punished for telling Michael or me "NO!", so she's come up with some even more disagreeable alternatives. For instance, Michael asked her to clean her room. "I'm not supposed to clean my room," she replied. Or when I asked her to sit down for dinner, she said, "I not think so".