It was a fun and productive night at the knitting meetup. Lousy weather kept the turnout low, but we still had two new people show up. I worked on a tank top for Charlotte, and here's the back.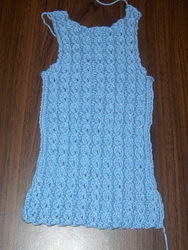 The pattern is Cecile from Bouton d'Or layette and junior #12, and the yarn is Ice Blue Cotton Ease.
Sugar 'n Spice also received some attention and now has an attached sleeve and side seam.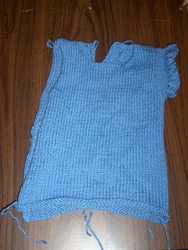 A couple more seams, a button, and a crochet edging and this one will be done.