We kicked off the weekend by attending the opening of the Butterfly House at the Botanical Gardens. They'd received a shipment of butterflies that day, and the worker opened one of the envelopes just for Charlotte. She was very excited to see them fly out, and even got to hold one for a moment before it moved to a plant. Another butterfly was just emerging from its cocoon, so she called that one a "baby butterfly".
As much as she enjoyed seeing the real thing, I think her favorite part was eating her butterfly sucker while we drove to our next destination, The Knitting Zone. Mary, the owner, built the shop off of her driveway. Both the house and the driveway are back in the woods so it was a good thing Mike had written down the address when he got the directions. For a little building, this place stores quite a bit of yarn. She must carry almost every color of every sock yarn out there! And the Noro collection was very impressive. One of the employees told me that the week long sale had left them pretty picked over, so I can't imagine what the place would look like fully stocked. Speaking of the sale, here's what I brought home: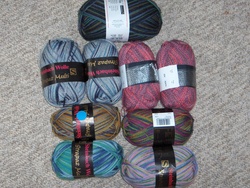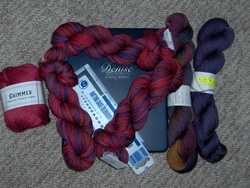 Some Strapaz and Meilenweit sock yarn, all on sale for $1.95 a ball; a ball of Regia Strato on sale for 50% off; 2 Lorna's Laces singles, priced at just $5 each; a ball of Shimmer, and 3 hanks of Artyarns Supermerino marked down 30 and 20% off. (You'll also notice the Denise needles Mike bought me for Mother's Day.) If it wasn't for the sale this weekend at Yarn Expressions I probably would have picked up even more.
After all of that excitement, we topped off the weekend, by finishing Joshua's room.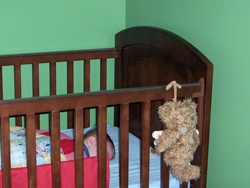 Now he's been moved permanently out of our room and into his crib.