Look at what was waiting outside our front door this afternoon.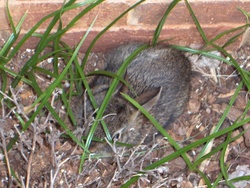 We have lots of adult rabbits running around outside, but this is the first baby we've seen. This little guy was only about the length of a dollar bill.
My MIL came out to visit this weekend, and we had fun hitting the yarn sale Saturday. (Forty percent off of your yarn purchase is enough to make any knitter happy.) Here's what I brought home: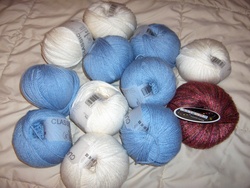 The Cashsoft 4 ply is for the kids' Christmas sweaters, and I'm hoping the Ritratto works out in a sweater for Charlotte's birthday.