Chris asked:
Um, Scooby Doo sweater? Have I missed the latest rage or something?
I'm working on the cover sweater from Suss Cousins's Hollywood Knits. The author is a Hollywood knitware designer, so most of her patterns have little stories about what star wore them in a photo shoot or what movie they appeared in. This particular design happens to be the Velma sweater from the movie, so it's become the "Scooby Doo sweater". I haven't noticed any knit-alongs or fanfare to accompany this pattern, so I'd say you're still up to date on your knitting blog trends. :)
Over the weekend I finished the first sleeve for this sweater.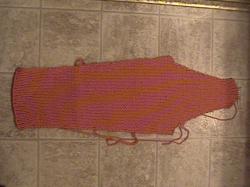 Women's sleeves can be very deceptive. I thought I was close to the end after I finished the sweater body, but these sleeves just seem to go on forever. At least I have a couple of knitting meetups this week to help me knock out the second one.