Here are the highlights from our wonderful trip.
1. The Train
I didn't want to fly and Mike didn't want to drive, so we rode Amtrak to and from Alexandria. The sleeper car gave us more room and better sleeping accomodations then either of the other two travel options. The food was good and Charlotte had more freedom to move about. Plus the scenery was beautiful and I had plenty of knitting time. This is one of the first times that I actually enjoyed the travel part of the trip.
2. The Sweet Sleeper Bed
The Sheraton we stayed at had the Sweet Sleeper Bed, and it was the most comfortable bed I have ever slept on. I was able to sleep through the night for the first time in months, and I didn't even need to prop myself up with pillows.
3. The Shopping
A good portion of the trip was spent at Knit Happens so of course there was some stash enhancement.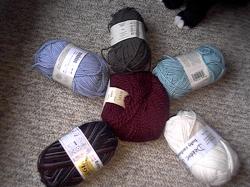 I purchased some ASC for Bob, Baby Cashmerino for the Debbie Bliss Hooded Striped Top (both baby boy sweaters), yarn for Mike's Christmas socks, and some beautiful Alpaca Silk for Lara. The alpaca is so soft and lovely; once I felt it, I couldn't resist taking it home.
Charlotte and I also got a Knit Happens hat to share.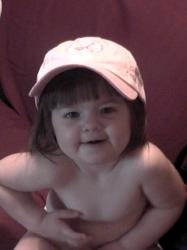 4. The Best Part of the Trip
I got to visit with most of our Virginia friends! It was so nice to see everyone again; I've really missed hanging out with the Knit Happens crew on a regular basis. Charlotte had a ball as well. She loved helping Holly run the store, and had fun playing with Lily, who's almost two. She also had a blast visiting her "Stine". She got to play with Axel, and by the end of the trip she was even talking to Rich.