After almost two weeks without internet, we're finally back online. Here's my first finished project from my blog hiatus, Mike's socks.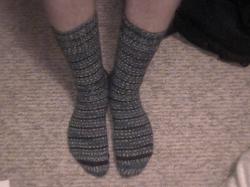 I finished all but about 3 inches on the second sock during our house hunting trip, but I hadn't picked them up again until the move. Now they're ready in plenty of time for colder weather.
Since I missed the first Secret Pal information survey, I wanted to hurry and post my answers to this one.
What are your favorite yarns to knit with?
Right now I really enjoy knitting with Rowan All Seasons Cotton. Debbie Bliss Cotton Angora is another one I like.
What is your current knitting obsession?
I'm currently addicted to Rowan kid patterns, particularly the Miss Bea books.
What are your favorite items to knit?
I like knitting Charlotte clothes because they usually work up so quickly. Socks and felted bags are also fun knits.
What are you knitting right now?
Socks, a toddler dress, a Miss Bea sweater, and two tank tops.
What do you think about ponchos?
I have no problem with ponchos. At some point, I plan on making one for me. I think ponchos are a very pregnant friendly article of clothing.
Do you prefer straight or circular needles?
Circulars
How did you learn to knit?
I taught myself out of a book.
How old is your oldest UFO?
I have one that I started in January. I'm sure there are older ones, but none of them are coming to mind.