We had our first appointment with the new doctor today, and unfortunately, when our appointment was made, we weren't scheduled a time with the ultrasound technician. Our nurse was really great about it though. She got us one of the ultrasound rooms, and the doctor performed a brief ultrasound. We were able to see the baby, and it looks very healthy. However, it had its legs crossed with the umbilical cord between them, so we don't have a clue as to the sex yet. We have an appointment Monday with the technician, and this visit should be longer since she'll be taking several measurements to verify everything is on schedule. Hopefully, this child will give us a good shot at some point while we're there.
As promised, the Brittany jumper is finished.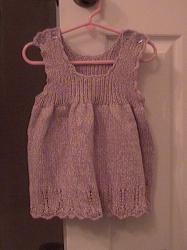 It actually fits Charlotte much better than expected. I made it a size up with the idea she'd mainly wear it next year, but by then, she'll probably be too tall for it.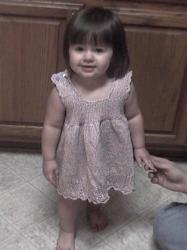 Just as the picture looks in the Minnowknits, Too book, this is a short dress. If I were to make it again, I'd probably add a couple of inches to the skirt.