One of my favorite things about our new house is the large garden tub in the master bath. Of course, Charlotte has gotten the most use out of it.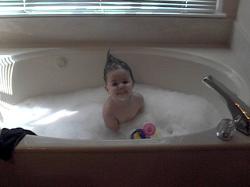 The large area around the tub provides easy access to Charlotte, and the high sides keep most of the water in during splash time.
While Charlotte spends her time soaking, I've been making blanket statement squares. Here's six more to be sent out at the end of this month.