Yesterday, Charlotte and I got to meet Debbie Bliss at a Knit Happens workshop. I'm a big fan of her designs- in case you haven't been able to tell from my projects-, so it was very exciting. Many of the samples she brought were from her next baby knits book which will be out next spring. The sweaters were gorgeous, so I'll definitely be adding this book to my collection. Another book of her's with designs for children ages 3-10 will also be coming out in the spring- just in time for Charlotte to fit into the smallest size.
It's been over a month since I've worked on a Debbie Bliss design, so last week I started the Cable and Seed Stitch Jacket from The Baby Knits Book.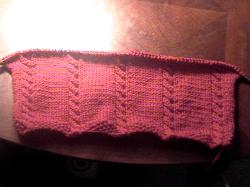 When I'd purchased the supplies for this project last summer, I was apprehensive about whether or not I could handle a cabling project. After all of the different cabling I did for the weekend sweater, the one cable repeat for this jacket is a piece of cake. The yarn for the jacket is Debbie Bliss merino aran in color 700.